From Berghain to the big screen! Sven Marquardt makes his film debut with a cameo appearance in John Wick: Chapter 4
Renowned Berghain bouncer, Sven Marquardt, has made a cameo appearance in the upcoming Keanu Reeves-led action flick, John Wick: Chapter 4. The movie, slated to release in cinemas across the United States on Friday, features several brief appearances from Marquardt, who delivers just one line throughout the film, "I am Klaus."
The latest instalment in the John Wick series follows the titular character on a mission to take down 'The High Table', taking him to various destinations around the world, including Paris and Berlin, where he encounters Marquardt. In the German capital, a massive nightclub, reminiscent of the iconic Berghain, serves as the backdrop for a fight sequence. The club boasts floor-to-ceiling water features and multiple rooms adorned with artistic installations.
The film's plot reads, "John Wick uncovers a path to defeating the High Table. But before he can earn his freedom, Wick must face off against a new enemy with powerful alliances across the globe and forces that turn old friends into foes." Marquardt plays the role of John Wick's associate, assisting him in tracking down a villainous character that he is instructed to kill.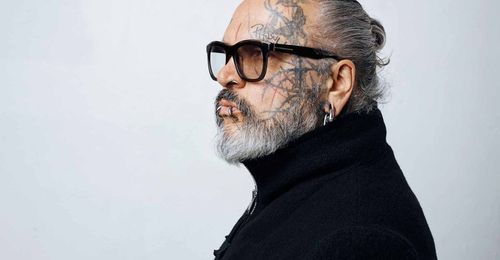 Apart from Marquardt, the cast of John Wick: Chapter 4 includes a star-studded line-up, featuring Rina Sawayama, Keanu Reeves, Donnie Yen, Halle Berry, Bill Skarsgård, and Laurence Fishburne. The film's soundtrack boasts several prominent names, such as French electronic duo Justice, techno producer Gesaffelstein, and a track from Rina Sawayama herself.
In January, Marquardt also made an appearance in a fashion campaign for Berlin's 44 Label Group. The clubwear designer's new collection, AW23, was showcased in the shoot, which featured Marquardt posing in a hoodie with the words "RAVE NEW WORLD" emblazoned on it. The campaign included both photoshoots and a video, where the doorman and photographer can be seen modelling the latest collection.
Overall, fans of the John Wick franchise can look forward to catching Sven Marquardt in his cameo appearance in John Wick: Chapter 4, where he plays a critical supporting role in the protagonist's mission to bring down his enemies. The film's international scope, high-octane action, and stellar cast and crew, including Marquardt, promise to make it a must-watch blockbuster.
Check out the trailer below: