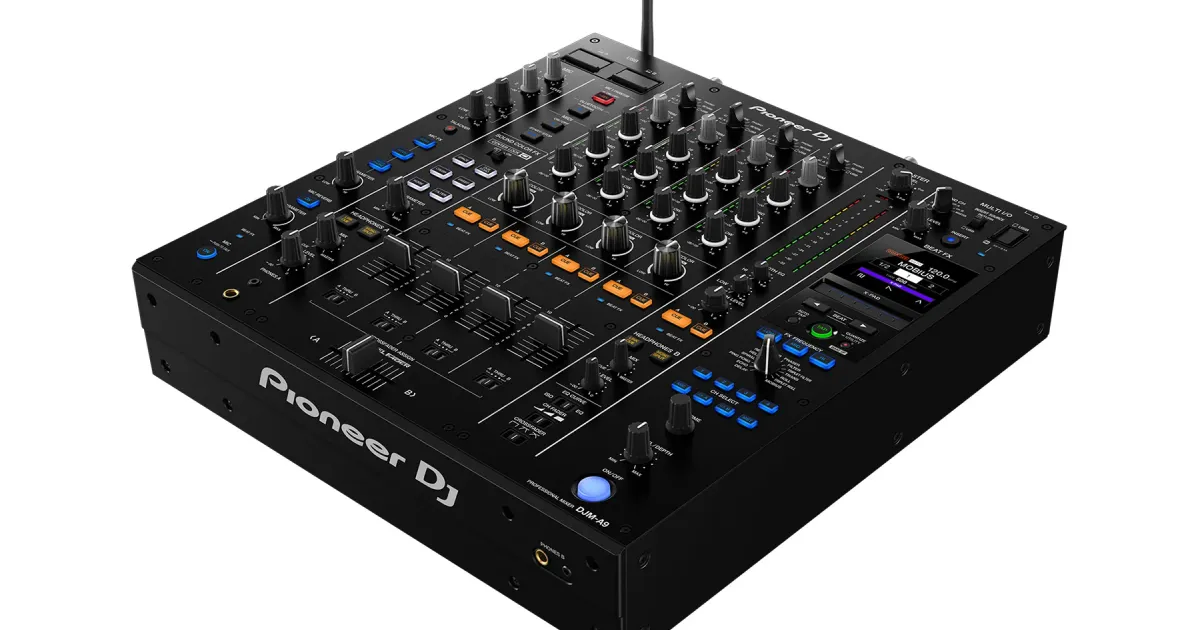 Pioneer DJ announces new 4-channel DJM-A9 mixer
After teasing their latest piece of hardware online last week, Pioneer DJ officially announced the release of the new DJM-A9 mixer. It comes with an array of fresh features – including a major audio quality upgrade, a new layout design for a more intuitive DJing flow, and a Center Lock feature for Sound Color FX.
Key Features: new layout, better sound, Center Lock, track sends via Bluetooth + more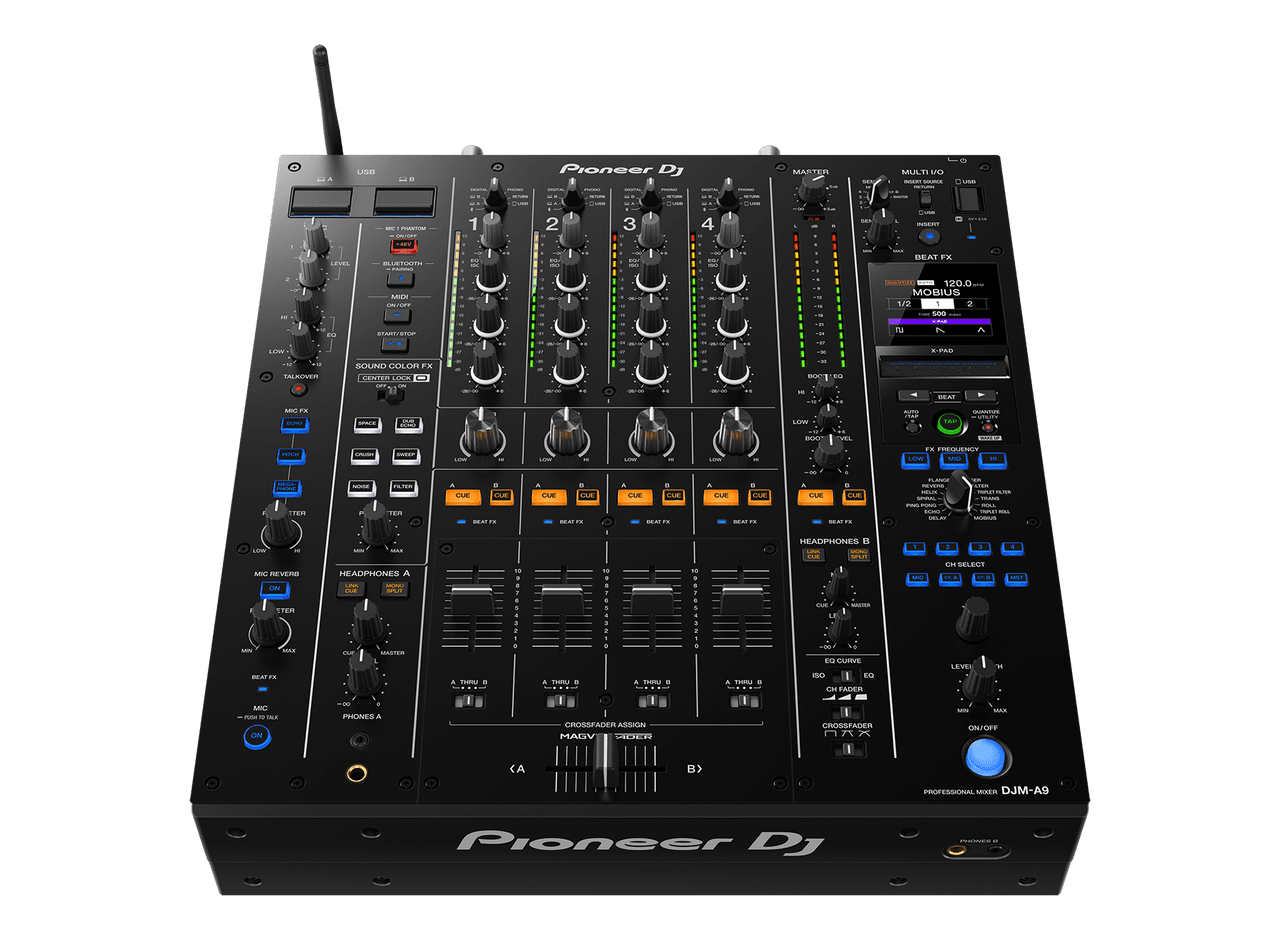 Take a look at the hardware's major features – we're seeing quite a few new perks and upgrades:
Clearer sound quality thanks to 32-bit converters – The A9 uses ESS Technology 32-bit high-quality converters. The mixer itself is built with an analog-to-digital converter, and both the master and booth outputs use digital-to-analog converters in the same vein.
A refreshed layout – Clearly a nod to better user experience from Pioneer DJ, this mixer has a new layout built for easier functionality.Simple tweaks can go a long way: There's more space around EQ knobs, plus the channel faders and MAGVEL FADER crossfader are slicker and built with better quality materials.
Center Lock for Sound Color FX – the first-of-its-kind feature prevents knobs from moving past center when using Sound Color FX
An added color display for Beat FX and 14 Beat FX options – including three new ones: Mobius, Triplet Filter, and Triplet Roll.
Drop tracks onto the mixer from other devices via Bluetooth – Wirelessly send audio tracks from another device to any channel to use in your set seamlessly, as they'll have access to all mixer features and effects.
Microphone upgrades – including a phantom-powered input that allows you to directly connect a condenser mic to the A9, and three new mic effects: Echo, Pitch, and Megaphone.
Pair up: you can connect two computers at once –with dual USB Type-B and USB Type-C ports, plug in two separate PC/Mac computers simultaneously.
Two headphone outputs with their own functionalities – including separate cue buttons, volume knobs, and mix balance knobs
Lockable power cord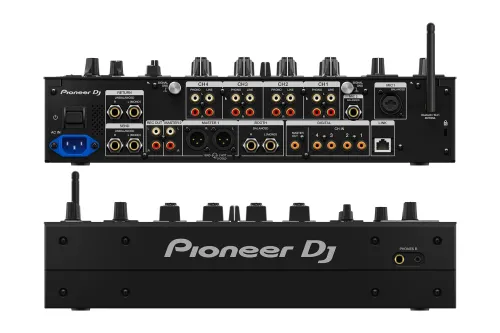 And on the support front for external DJ software and apps:
rekordbox and Serato DJ Pro supported – just note that you'll need to buy a license or subscription for the latter.
Connects to Pioneer DJ's new Stagehand app for iPad (more on this below) and to the DJM-REC app on iOS and Android to easily record your sets directly to your phone.
Compatible for video and lighting apps: TC Supply's ShowKontrol and the free app PRO DJ LINK Bridge
Old vs. new: How does it compare to the DJM-900NXS2?
The DJM-900NXS2 could easily be deemed as much of an industry standard in many major scenes – especially in such where the V10 hadn't made its mark. The release of the A9 naturally leads us to question how big of a difference there really is between the new gear and a predecessor.
Only slightly pricier, but with a slew of new features – The 900NS2 was priced at $2,399 USD – so a jump to $2,699 with the additions and upgrades it offers is ultimately not that huge.
Same channels, same crossfader – still sitting at 4 channels and built with a MAGVEL FADER crossfader, although the A9 claims the faders will be higher-quality this time around.
A step up for better sound – A9 has the ESS Technology converter that takes the audio quality up a notch. The NXS2's A/D converter was 24 bit; the A9 jumped to 32. The D/A converter, though, is 32 bit on both.
While we're on the subject of comparing Pioneer DJ mixers, some food for thought: is the release of a four-channel mixer a damage-control move because the V10 was perhaps a bit too much for your everyday artist – in terms of pricing, features, accessibility, and ability to buy?
Control and adjust the A9: the Stagehand iPad app
The drop today also comes hand-in-hand with the launch of an iPad app compatible with the A9 called Stagehand. The app is designed specifically for front of house teams, as it offers the ability to remotely monitor performance and tweak settings on a DJM-A9 and CDJ-3000 setup, all via Pioneer DJ's PRO DJ LINK network.
Beyond being able to watch the gear's volume levels and settings, users can also use BPM, beatgrid, and time details to assist with coordinating lighting setups. The app also includes a Live mode – a solid idea for a safeguard where you can disable much of its features so the user can't accidentally pause a track while the DJ is playing – and a Sound Check feature for ease of event setup.